Vitiligo presents as patches of light-colored skin that can occur anywhere on the body. Vitiligo can impact anyone, regardless of race, ethnicity, age, or sex. Along with skin discoloration, vitiligo can also cause eye and hearing symptoms and impact emotional well-being.
Skin Symptoms
Vitiligo is characterized by loss of skin color, also called loss of pigment or depigmentation.1 Areas of depigmentation may be a few shades lighter than a person's natural skin tone or they may look completely white.1 Patches of depigmented skin may also look pink, red, or brownish. The edges of the depigmented areas may look smooth or jagged.2 In most cases the texture of the affected skin is the same as unaffected skin.3
Loss of skin pigmentation usually first appears on areas of the body that are exposed to the sun, though it can occur anywhere on the entire body.1,3 Some commonly affected areas include:
Face, including the lips, inside of the nose or mouth3,4
Neck3
Hands4
Arms4
Knees3
Feet4
Genitals1
People may also lose pigment in the hair on their scalp, eyebrows, eyelashes, or beards.1
Depigmentation can manifest in a few different patterns. It may be widespread across large areas of the body, it may be symmetrical on both sides of the body, or it may be limited to just one or a few parts of the body.3 Learn more about types of vitiligo.
Some people with vitiligo experience itching or pain on the affected skin, though many others don't experience pain or itching.1 Depigmented areas of skin are more prone to sunburn which can be more painful than sunburns on unaffected skin.5
Symptoms of vitiligo can appear at any age.4 An estimated one-third to one-half of people develop vitiligo as children.6
Read about treatments for vitiligo symptoms.
Other Symptoms of Vitiligo
While loss of skin pigmentation is the primary symptom of vitiligo, people with vitiligo can also experience symptoms like eye inflammation (iritis) and hearing loss. These symptoms can occur because the same cells that give the skin its color, melanocytes, are also found in the inner ear and eyes.5
Eye inflammation (iritis) – Some people with vitiligo experience inflammation in their irises or retinas.7 Symptoms of eye inflammation include redness, general discomfort, and light sensitivity. Iritis is treatable but can lead to long-term eye problems if not addressed.8
Hearing loss – An estimated 12 to 38 percent of people with vitiligo have some degree of hearing loss. If you're concerned about hearing loss, talk to your dermatologist about a referral to an audiologist (hearing specialist) familiar with vitiligo.5
People with vitiligo may also be more likely to develop certain autoimmune conditions.9 Learn more about conditions related to vitiligo.
Emotional Symptoms
Vitiligo can have a negative impact on a person's emotional well-being. People with vitiligo may feel embarrassed about their appearance or face social stigma, which can lead to social isolation, depression, or anxiety. One study found that depression and anxiety disorders were nearly two and a half times more common among people with vitiligo than the general population. The study also found that anxiety and depression disorders were more prevalent among people whose skin discoloration was in more visible areas of the body.10
Individual therapy, group therapy, and in-person or online support groups like MyVitiligoTeam can help you manage the emotional symptoms that come with vitiligo.11
Condition Guide
Resources
External resources
Internal resources
FAQs

Is vitiligo contagious?
No. Vitiligo is not contagious in any way. You cannot develop vitiligo symptoms from physical contact, sexual activity, or sharing utensils with a person with vitiligo.12
Does vitiligo impact certain ethnic or racial groups more than others?
Vitiligo can impact a person of any race or ethnicity.3 There is evidence that vitiligo is more prominent in some parts of the world than others. Gujarat in western India is believed to have the highest incidence of vitiligo globally – nearly 9 percent, compared to an average of 0.5 to 2 percent.12 Read more about demographics and history in this overview of vitiligo.
Does vitiligo impact men and women differently?
Vitiligo impacts equal numbers of men and women. Women tend to develop vitiligo symptoms at an earlier age than men. Women are also more likely to seek treatment for vitiligo than men.12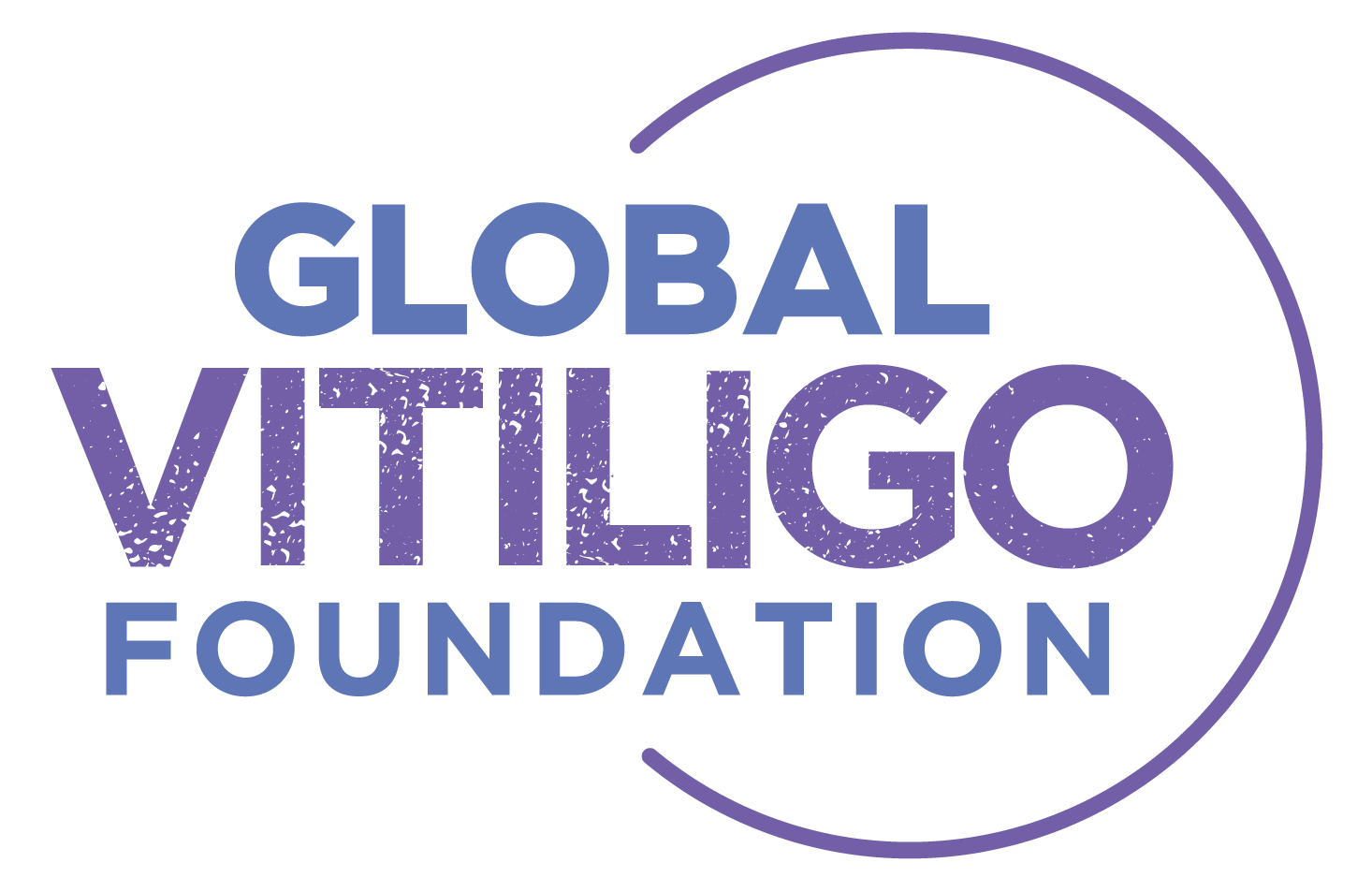 In partnership with the Global Vitiligo Foundation, which strives to improve the quality of life for individuals with vitiligo through education, research, clinical care, and community support.
References
Vitiligo: Signs and symptoms. (n.d.). Retrieved October 31, 2019, from https://www.aad.org/diseases/a-z/vitiligo-symptoms.
Overview: Vitiligo. (n.d.). Retrieved October 31, 2019, from https://www.nhs.uk/conditions/vitiligo/.
Vitiligo Signs & Symptoms. (n.d.). Retrieved from https://www.avrf.org/facts/vitiligo-signs-symptoms.html.
Vitiligo. (2019, October 21). Retrieved November 1, 2019, from https://www.niams.nih.gov/health-topics/vitiligo.
Is vitiligo a medical condition? (n.d.). Retrieved October 31, 2019, from https://www.aad.org/diseases/a-z/is-vitiligo-a-medical-condition.

Ezzedine, K., & Silverberg, N. (2016). A Practical Approach to the Diagnosis and Treatment of Vitiligo in Children. Pediatrics, 138(1). doi: 10.1542/peds.2015-4126

Vitiligo of the Skin. (2016, May 2). Retrieved November 12, 2019, from https://my.clevelandclinic.org/health/diseases/12419-vitiligo.
Iritis. (n.d.). Retrieved November 12, 2019, from https://www.mayoclinic.org/diseases-conditions/iritis/symptoms-causes/syc-20354961.
About Vitiligo. (n.d.). Retrieved October 31, 2019, from https://vrfoundation.org/about_vitiligo.

Vernwal, D. (2017). A study of anxiety and depression in Vitiligo patients: New challenges to treat. European Psychiatry, 41. doi: 10.1016/j.eurpsy.2017.02.242

Rzepecki, A. K., McLellan, B. N., & Elbuluk, N. (2018). Beyond Traditional Treatment: The Importance of Psychosocial Therapy in Vitiligo. Journal of Drugs in Dermatology, 17(6), 688–691.

Lotti, T., & Salafia, A. (n.d.). Vitiligo Questions & Answers. New York, NY: VR Foundation.