"It really is an exciting time for patients with vitiligo when we have multiple new drugs in development — but when used appropriately, we can also make significant strides with the current tools in the toolbox."
Dr. Pearl Grimes shared this important insight during the 2021 World Vitiligo Day live event on June 26, 2021. Dr. Grimes joined MyVitiligoTeam and the Global Vitiligo Foundation to celebrate the annual event, which was hosted by Litty Ligo creator Sharon King.
The event included a wide range of activities and insights, with speakers and participants who discussed the following topics, among others:
Which treatments offer the best chances of repigmentation

Whether any specific diets or vitamins are helpful for people with vitiligo

The importance of creating a community of other people who are living with vitiligo

Candid insights from teenagers who have vitiligo

Information about treatments and therapies that are in development for vitiligo

Resources on mental health and well-being when living with vitiligo

Details about what the most recent U.S. Food and Drug Administration (FDA) outcomes mean for people living with vitiligo

Whether puberty has an impact on the development of vitiligo

Questions to ask if you're considering participating in a clinical trial

Book recommendations for people living with vitiligo
Watch the video to see the entire three-hour event, and check out some of the resources that World Vitiligo Day guests shared at the event:
Register to be notified about future upcoming live events on MyVitiligoTeam.
2021 Virtual World Vitiligo Day Speakers:
| | |
| --- | --- |
| | Right before her 30th birthday, the vitiligo on Sharon King's face began to spread. This was not uncommon but for the first time in 20 years, she wasn't upset or anxious about her skin changing. Realizing that she had accepted herself unconditionally, Sharon was motivated to create Litty Ligo, an outreach and advocacy network hosting events, campaigns and programs to empower the vitiligo community and normalize skin differences. Litty Ligo has helped thousands of families and educated schools and medical institutions alike about the social health aspects of living with vitiligo. |
| | Eric Peacock is the cofounder of MyVitiligoTeam — a fast-growing social network for people facing vitiligo. In just three months after launching, over 2,500 people with vitiligo have joined, and hundreds more are joining every month. Eric, who has had vitiligo since he was a child, is also the cofounder and CEO of MyHealthTeam — a mission-driven company that has already created similar social networks in 36 other chronic conditions serving 2.4 million members. |
| | Perry Whaley is the owner of Vitiligo Man of Action LLC in Stonecrest, Georgia which is dedicated to encouraging people to live a productive life. He has been working in the public eye to promote social awareness about vitiligo. Through education and empowerment, he hopes to be able to make a lasting change. |
| | Dr. Pearl E. Grimes, MD, FAAD is a globally recognized dermatologic expert and a leading international authority on vitiligo and pigmentation disorders. As Director of the Vitiligo and Pigmentation Institute of Southern California, she treats patients from all over the world who seek her expertise and extraordinary patient care. |
| | Dr. John E. Harris earned his medical degree and a Ph.D. in molecular medicine from the University of Massachusetts Medical School (UMMS) in Worcester, MA, where he also completed his medical internship. He completed his residency and fellowship at the Hospitals of the University of Pennsylvania in Philadelphia. |
| | Dr. Lisa Schuster, who has vitiligo herself, is a licensed psychologist specializing in stressful events and experiences. Dr. Schuster works at Children's Health in Dallas, Texas, where she assesses children with concerns of abuse or neglect for difficulties in social-emotional or behavioral functioning. She is also an assistant professor in the department of psychiatry at the University of Texas Southwestern Medical Center. |
| | Dr. Nada Elbuluk is a board-certified dermatologist and Assistant Professor at the USC Keck School of Medicine, Department of Dermatology. She is honored to be a dermatologist at USC and to be able to serve the diverse population of Los Angeles. She is the founder and director of the USC Skin of Color Center and Pigmentary Disorders Clinic. She also serves as the Director of the Dermatology Diversity and Inclusion Program. |
| | Dr. Huang has a special clinical interest in vitiligo, an autoimmune depigmenting condition of the skin, and inflammatory conditions of the skin. He also maintains an interest in drug reactions related to cancer therapies, and is the Director of Phototherapy at UC Davis Health. |
| | Dr. Richard H. Huggins, MD joined the dermatology staff at Henry Ford Hospital in 2012 and was named division head of the Department of Dermatology in 2018. Dr. Huggins is the author of numerous journal articles and chapters studying treatments and quality of life for people with vitiligo and other skin conditions. |
| | Dr. Seemal R Desai, MD, FAAD is the Founder and Medical Director of Innovative Dermatology in Dallas, Texas as well as a faculty member at UT Southwestern. He serves on the Board of Directors of the American Academy of Dermatology, as Immediate Past President of the Skin of Color Society, and on the US Food & Drug Administration PCAC. |
| | Dr. Amit G. Pandya, M.D., is a vitiligo specialist and researcher currently based in Palo Alto, CA. Dr. Pandya has given hundreds of lectures nationally and internationally, and has published over 200 research articles and book chapters, mostly on pigmentary disorders. |
| | Alicia Roufs is the marketing director of a national non-profit group called VITFriends, a vitiligo support community. She is also the founder of the local VITFriends chapter in Minnesota which currently has 250 members. In June of 2016, Alicia was asked to share her story of growing up with vitiligo at the first World Vitiligo Day conference in Washington DC. She has been featured on Fox 9 news and local publications and has even advocated on Capitol Hill. She has had vitiligo for over 43 years. |
| | Myrica "Hopie" Walls is a MyVitiligoTeam member who was diagnosed with generalized vitiligo in 2018. She gained her nickname because she plans to never give up hoping and praying for a permanent cure for vitiligo. However, if a cure never arrives, she will love herself and her skin regardless. |
| | Kim Boyd was diagnosed with vitiligo in 2013, and she subsequently joined the leadership team of Detroit, Michigan, support group V-Strong. Kim led the team in planning and organizing the World Vitiligo Conference held in Detroit in 2017, and has helped in planning other vitiligo conferences as well. Kim is also a member of the board of directors for the Global Vitiligo Foundation. Kim works full-time as a manager in the financial services industry and is also a certified career coach. She enjoys spending time with her husband of 16 years, reading, listening to music, and catching up with old friends. |
| | Jake Webber is a Registered Dietitian with more than 7 years experience in health coaching and clinical nutrition therapy. He has an extensive background working in an integrative and functional medical practice working with doctors, dietitians, and physical fitness professionals to combine all facets of health to ensure meaningful changes in someone's life. Jake also specializes in lab testing to ensure we are uncovering what may be impacting someone's health beneath the surface. |
| | Mark Braxton is from Raleigh, NC. He's had vitiligo for over 25 years. In 2019, he made the decision that vitiligo had to learn to live with him, instead of him learning to live with it. He joined the NC Vitiligo Support Community. He started vitiligo awareness presentations at Fox Rd Elementary. In his show, 'Living Life and Love' he's had the honor of interviewing educators, artists, entrepreneurs, and several members of the vitiligo community nationally and globally. He's one of the newest members on the VITFriends board and the art instructor for the VITFriends Creative Expressions art classes. |
Disclaimer: The information, including but not limited to, information from presenters, text, graphics, images, and other material shared during this event is for informational purposes only. The information is not intended to be a substitute for professional medical advice, diagnosis, or treatment. Always seek the advice of your physician or other qualified health care provider with any questions you have regarding a medical condition. Never disregard professional medical advice or delay in seeking it because of something you heard during this event.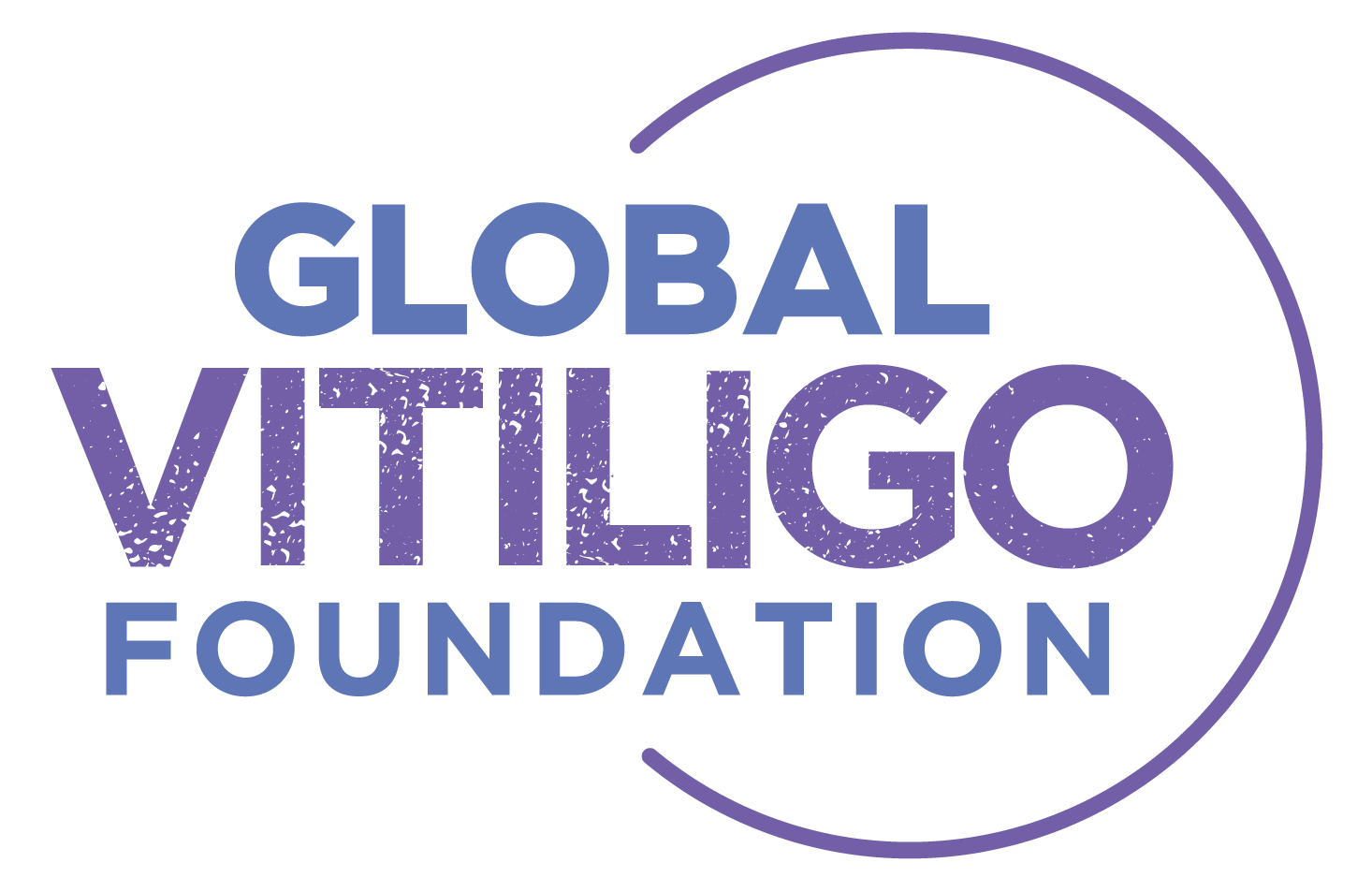 In partnership with the Global Vitiligo Foundation, which strives to improve the quality of life for individuals with vitiligo through education, research, clinical care, and community support.
Get more articles like this!
Subscribe to receive the latest articles about vitiligo.
Privacy policy